Parade's End is a new 5 part drama serial for BBC 2. Adapted by Sir Tom Stoppard from Ford Madox Ford's tetralogy of novels Some do Not, No More Parades, A Man Could Stand Up and The Last Post,  Parade's End centres on Christopher Tietjens  (Benedict Cumberbatch) a "giant oak of a man" and highly intelligent government statistician from a wealthy landowning family.
In the first few moments of the series we see Christopher seduced (on a moving train no less!), trapped and cuckolded by his wife, the mercurial Sylvia (Rebecca Hall). Profoundly hurt and humiliated Christopher's life is rather brightened by the chaotic arrival of Valentine Wannop (Adelaide Clemens), a charmingly feisty suffragette. But while Christopher tries to cope with the antics of his estranged wife and his growing interest in Valentine he knows that a far darker cloud is on the horizon – for the spectre of war is looming…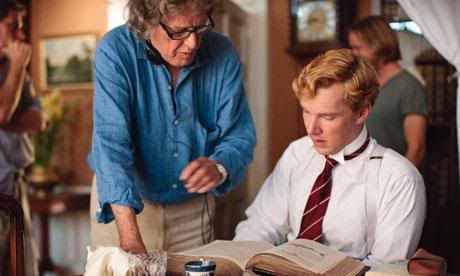 Oozing class from every frame Parade's End is superb.  It's a triumphant return to the silver screen for Sir Tom Stoppard.
His screenplay is marvellously wordy (as he wryly put it he writes "talkies") and the time jumping narrative will demand audiences' attention. His dialogue is vibrant and sparky and the characters crafted so perfectly and with so much warmth that even the smallest of supporting roles shines brightly. It's also extremely- from the charming farce of Valentine and Christopher's initial meeting on the golf course complete with prat-falling policemen, to the laugh out loud hilarity of Christopher and best friend Macmaster's (Stephen Graham) breakfast meeting with Mrs Duchemin (Anne Marie Duff) with Rufus Sewell doing a marvellous comedic turn as a loony vicar loudly discussing sex in Latin to the bemusement of his guests.
Visually it is also glorious. Susanna White directs with confidence and flare. We are treated to some unusual visual shots which makes it appear as if the audience is viewing the action through a kaleidoscope (perfectly apt for Christopher's initial, sexually charged meeting with the "glorious" Sylvia as he meets the woman who will throw his entire life out of kilter). The screen is drenched in colour whether it be the rich earth tones of the Tietjens house, the beautiful peaceful vistas of Christopher's childhood home Groby, the magical hues of the Tietjens trinket festooned tree or the soft creamy whites in which Valentine is attired – a symbol of hope and new beginning for Christopher.
All three leads are superb. Relative newcomer Adelaide Clemens (looking spookily like a young Michelle Williams) is an absolute delight as Valentine. Charming, feisty and sweet and idealistic but in a way which never grates you take her to your hearts instantly. Rebecca Hall, in the potentially rather thankless role of Sylvia, is fascinating to watch. Sylvia is mercurial, cruel, easily bored, shameless, dismissive and treats her poor husband rather appallingly. The sequence where she dismisses her lover while lamenting the shameful quality of the hotel notepaper sums up her character rather beautifully. Married, perhaps by necessity rather than choice, to Christopher she is aggravated beyond belief at his taciturn nature (rather than in engage in scurrilous gossip with her at breakfast he instead prefers to write notes in the borders of the Encyclopedia correcting its errors) and seems determined to provoke a reaction from him vindictively flaunting her affair in front of his eyes. She is frankly a hateful creature but Hall plays her with such an undercurrent of deep loneliness and self loathing that you find yourself hoping that there will be  redemption for Sylvia. Hall also has incredible chemistry with Cumberbatch – sizzling, savage and oddly tender all at the same time. You won't like her but you won't be able to take your eyes off her.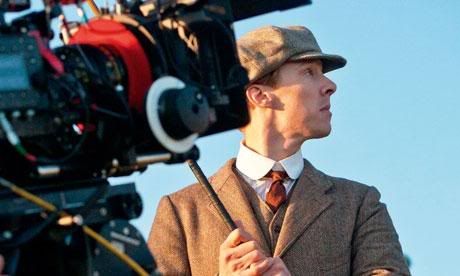 As Tietjens Benedict Cumberbatch very much carries the dramatic weight of the show on his shoulders and somehow manages to better his recent work on Sherlock which is no mean feat.
Physically transformed with padding to bulk up his cheeks and blonde hair lending him a slightly washed out, weary look Cumberbatch's Tietjens is kind, awkward, funny, gentle, fiercely intelligent and above all a deeply honourable man. A man who sticks by a very firm code of honour even if he begins to realise that he is a fool for doing so. Cumberbatch is the sort of actor who can convey reams of dialogue with a single glance and the camera lavishes on his despair etched face as he copes with the disgrace Sylvia has wrought upon him. Cumberbatch is likely to find himself with a whole new raft of admirers following the airing of Parade's End as it seems inconceivable that the audience won't fall hopelessly in love with Christopher. His humiliation is movingly portrayed and it would be a hard heart indeed that did not skip a beat at the beautiful sequences of Christopher with his son. Tietjens is also Cumberbatch's first real romantic lead. The tentative burgeoning relationship between Valentine and Christopher is chaste, sweet and sweepingly, gloriously romantic. From their initial meeting to quoting Romeo & Juliet while wreathed in mist the romance is so delicate and portrayed with such restraint it's really rather lovely.
The supporting cast is also an embarrassment of riches boasting the sort of actors who typically headline dramas themselves. Stephen Graham is both suitably charming and oily as MacMaster and the always wonderful Roger Allam an utter delight as General Campion (Cabin Pressure fans will adore the sequences between him and Tietjens). The cast of the first episode also boasts Rufus Sewell, Anne-Marie Duff (so magnificent earlier this week in Accused), Miranda Richardson, Janet McTeer, Claire Higgins and Rupert Everett (on suitably scene stealing form) to name but a few.
Beautiful to look at, funny, sweet, moving and achingly, sweepingly romantic Parade's End is utterly captivating. Parade's End is simply the very definition of "appointment television".